Life of the Pilgrim
Pilgrimage, mountain hiking, endless experiences, breathtaking views and profound silence.
We think the life of a Pilgrim refers to times when you make decisions that give you breathing room. Taking a break with the possibility of activity in the massive mountain areas in pristine nature we believe to be one such decision. To give oneself opportunity to reflect on life. Sometimes it can take the form of a retreat or a hike into a protected mountain world.
Here are amazing energising places and sights. Food cooked from scratch from real and sustainable produce. As well as service that provides you with rest & relaxation. Then there is always a door that you can close to your own room. All rooms have comfortable beds, reading lamps and private bathrooms. A nice and well-stocked breakfast buffet is provided for you in the morning. Then you can head out into the great outdoors. We can provide you with most of the equipment you might need from the hotel so you do not have to pack too heavily before your arrival.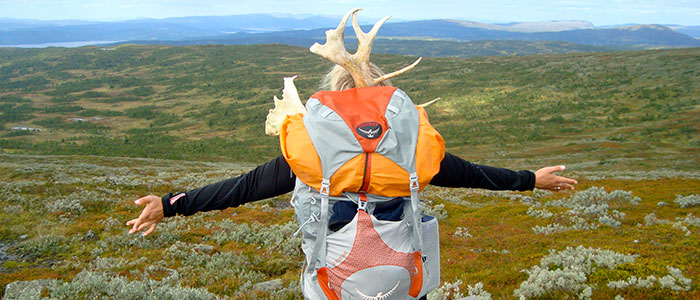 Equipment
To head out into the wilderness you need appropriate equipment. Some want to buy equipment others want it to be provided by the hotel. We have high quality equipment for hire for all mountain tours. When you book, you can get a package price that includes such equipment for the duration of your stay.
Two levels:
Pilgrim / Tent, outdoor cooking equipment, back-pack, thermos, sleeping bag, poles, MTB. Additional items for winter; Snow shoes, nordic skis. Additional charge 300 sek/ single room, 600 sek/ double room.
Outback / As a pilgrim, snowmobiles or boats are also included. Additional charge 700 sek / single room, 1000 sek / double room. Please request the Pilgrim or Outback Packages when you book!
Equipment can also be hired piece by piece if you prefer.
Book a place in the wilderness for yourself.